The next level of marketing intelligence with mandala AI's
Analytics Module.
With integrated AI, ready-to-use data Analytics helps insight discovery, content creation, and social listening. Analytics uses broad sets of relevant data from billions of mentions across the internet with one year historical data on any topics and keywords.
Insight Analytics
Real-Time Actionable Insights
Analytics
Powerful Big Data that Anyone Can Use
Insight Analytics
Real-Time Actionable Insights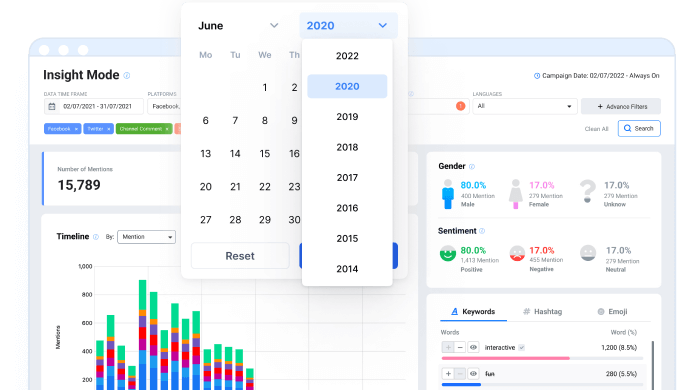 Analytics
Powerful Big Data that Anyone Can Use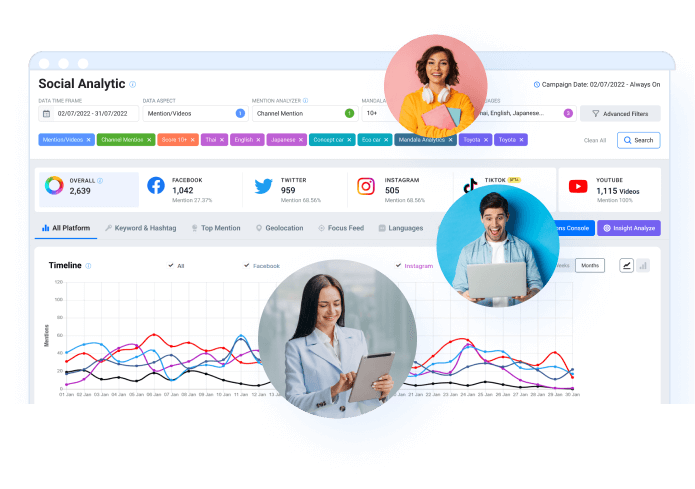 Explore Insights and Dive Deeper with
Mandala Analytics.
"Take your campaigns to another level with Mandala Analytics, a proprietary social data analytics engine and AI from us."

Know the full picture
Listen to what people are saying about you and your competitors alongside gaining an overview of billions of online conversations across popular online platforms.
Track and analyze changes
Search, track, and analyze any topic or keyword alongside identifying market and brand leaders, KOLs, and Influencers.
Comes with deep filters
Filter results by language, date, sentiments, interest categories, location, and more. Analyze the topics by comparing current and past days.
"Dive deep and thrive by identifying the opportunities before your competitors with the power of social data analysis."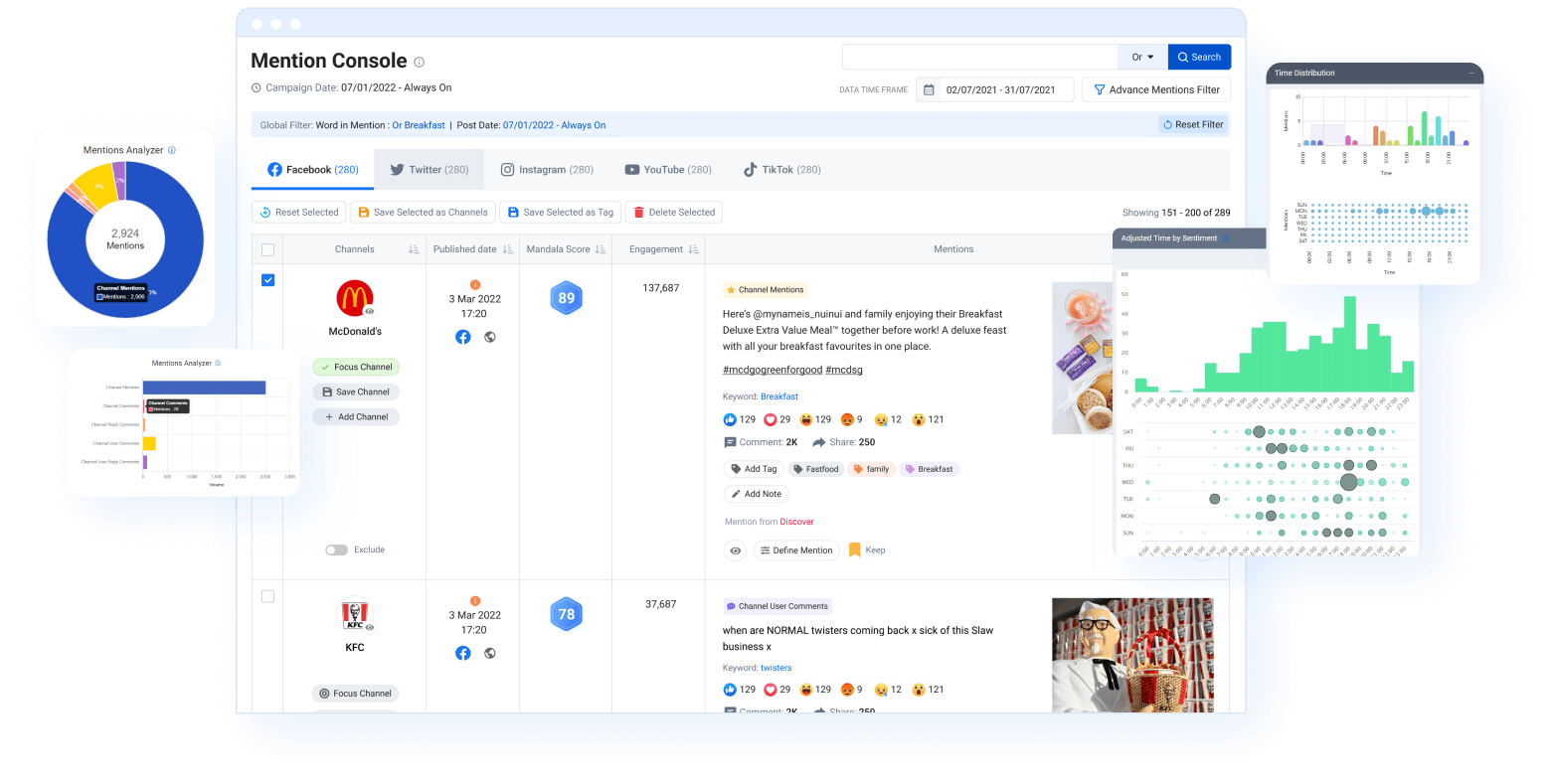 Make sense of enormous data
Use our automated data analytics platform to make sense of a large amount of data. The easy-to-use platform keeps you up and running with creativity without any prior experience.
Time analytics
Maximize your engagement and visibility on social media by knowing the best time to post with time analytics.
Keep winning with content analysis
Go one step further with your content game by knowing what's trending, popular conversations, most-engaged posts and more.
Mention mode
View individual mentions on one screen. Sorts and advanced filters help find and tune the right kind of mention for you.
Superior marketing campaigns
Discover the best content to inspire you with your marketing campaigns, be it an image, content format, colour analytics, inviting text, new leads, track conversations, etc.
"Save and keep track of relevant mentions for content inspiration."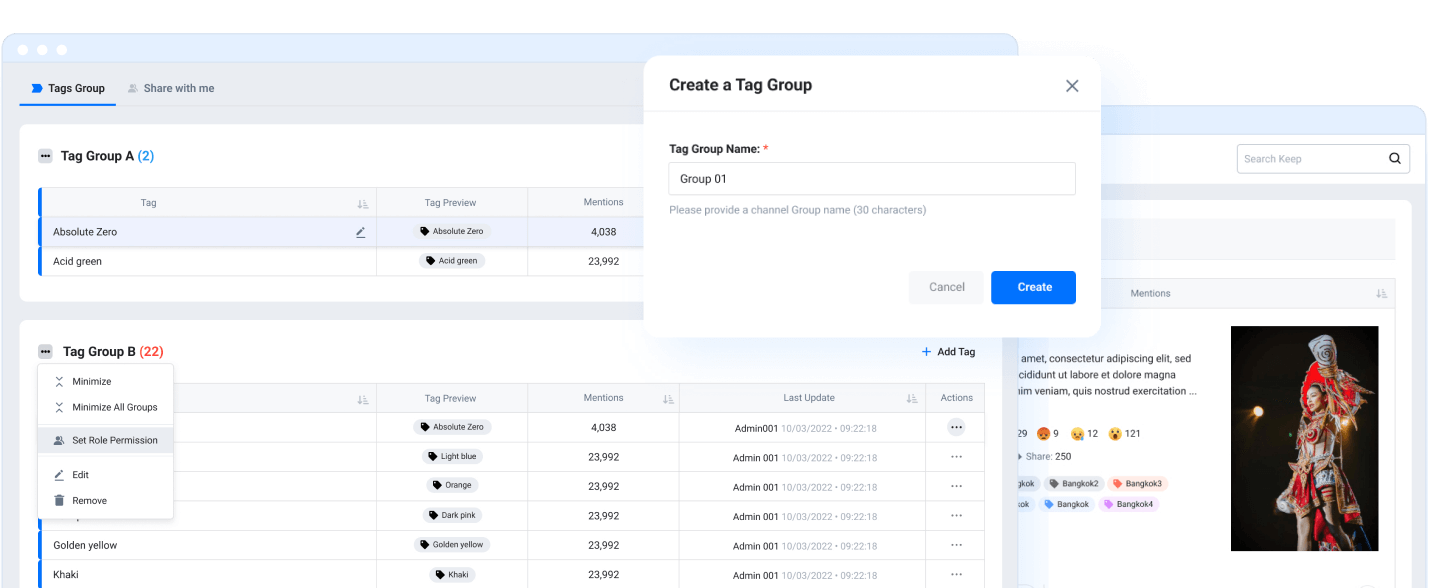 Keep mention
Save all the interesting content for further analysis using the keep function.
Tags
Group relevant mentions under the same tags and groups for clarity. Track the momentum of saved social mentions and easily share them with teammates.
Notes
Don't miss a thing! Make important notes under the post or mention.
"Embed all-in-one analytics platform across the enterprise to increase your team's efficiency and reduce costs."

Create greatness together
Build a productive team workflow by getting everyone on the team involved in a shared workplace. Embed all-in-one analytics platform across the enterprise to improve customer experience and reduce costs.
Stay in sync
Analyze, share, track, monitor, gather, and share dashboards with external (no login required) and do more together.
Achieve goals quicker
Assign different campaigns to different members on the team to make work more fun and manageable. Enable access to anyone with subject matter expertise for faster delivery.
Compatible formats
Prepared Processed Data ready to connect with Excel, Tableau or PowerBI, PowerPoint, or CSV. Easily export graphs and charts as images from your campaigns.
"Find influencers, trendsetters, relevant topics drivers and cooperation partners all in one tool."

Ultimate Influencer spotting
Tap into large lists of industry favourites and the right influencers relevant to your industry using our influencer analytics module.
Benchmark and analyze
Determine the social impact of the potential influencers with ease. Get key metrics to analyze the overall performance of your influencer campaigns.
Customizable searches
Use our powerful filter function to customize the search based on specific criteria such as language, categories, keywords, hashtags, etc., to get relevant and useful results in no time.
"Mandala AI makes it easier for you to measure and compare your and third-party performance for a successful social media strategy."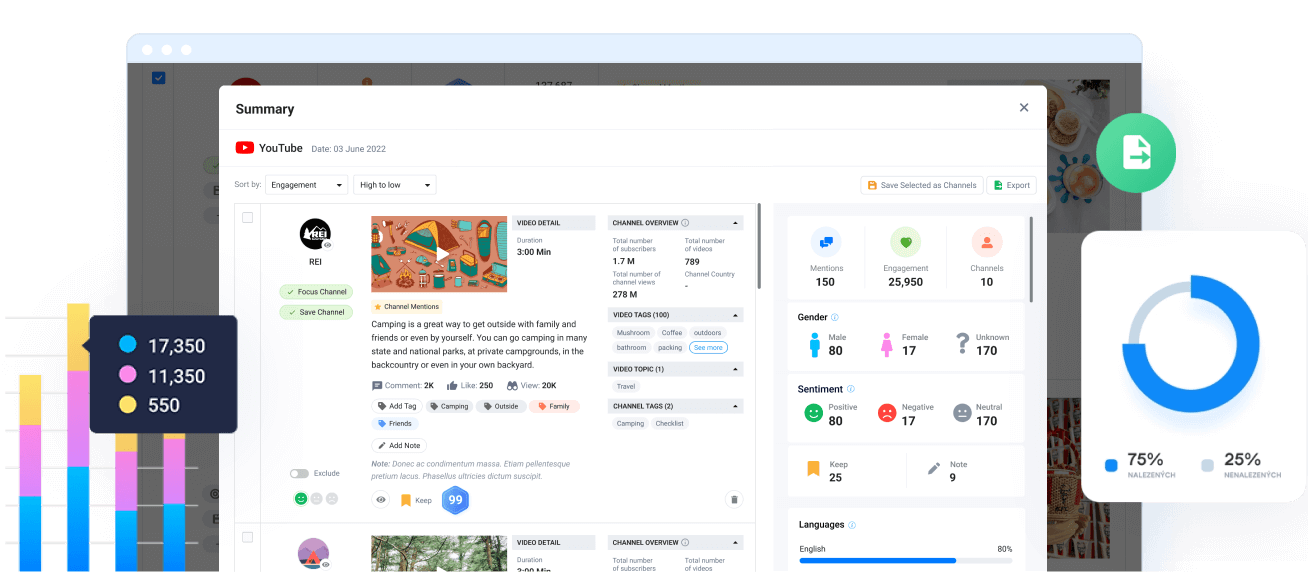 Benchmark social performance
Analyze the performance of your social media profiles to understand what is resonating well with your audience.
Competitor analysis
Keep track of relevant metrics on all channels and posts. Easily analyze highly popular and engaging content from an unlimited number of competitors and third-party for future inspiration.
Deep insights
Customized dashboards and filters from us help you discover insights that really matter. Historical data, multidimensional analysis, unlimited profiles analysis and more help you build weekly and daily reports.
"Leverage data to uncover deep insights and hidden meaning behind social and web movements."

Sentiment analysis
Learn the overall sentiment towards your business, whether it's positive, negative or neutral, and improve the perception of the audience towards you.
Question analytics
Classify questions, whether it is doubtful, general, location, time, etc., being asked on social and the web. Identify the area of improvement and missing information your audience requires from you.
Mention category
Know the nature of mentions to understand the type of interaction taking place on social. Take immediate action by identifying any PR emergencies in just a matter of seconds.
Gender orientation
Learn the orientation of the gender to understand their needs, wants and behaviours and to better target your audience.
Advance filters
Make even more sense of the best data found by sorting the results based on advanced filters such as keywords, languages, and more.
Data Analytics can be very dry and hard to interpret, but mandala AI gives nice easy to understand breakdowns which are super in-depth but easy to read and understand. This is crucial when we're presenting campaign results to clients, they're always impressed with the level of Analysis we can provide them in such an accessible format.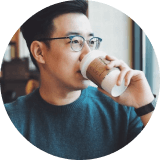 Somchai Thanaporn,
Vesuvio Agency (Social Media Marketing)
Learn more about the Mandala AI
Social Listening and Data Analytics
Customized Feed
Discover Trends
Insights
(Insight Mode)
Inspire and Curate Content
Future
Engage and Communicate
Publish and Schedule
Advertise
Analyze results and Benchmark
All Mandala AI

products are each powerful standalone platforms designed to work alone or as complementary modules in the Mandala AI ecosystem to energize collaboration and team success.
Get Started for free. Subscribe when ready. Upgrades Anytime.
Mandala AI is built to grow with you.